Like we know, Jamie Dornan is one of the men in the spotlight right now. He is a talented actor who has a good trajectory in Hollywood. We bet all his roles have been important to him. But one thing is for sure: Playing the role of Christian Grey was probably what changed his life completely. Being the body and face of such a loved character turned him into an idol for millions of fans, and of course, an object of desire too.
During an interview, Jamie said: "The version of Christian Grey that we see in the second and third movie is much closer to me. It has more elements of my own person and therefore I am more comfortable in his skin". Dornan also said that on the "50 Shades Freed" movie he was allowed to incorporate some of his own gestures to relate more to Christian.
There're some similarities between Jamie Dornan and Christian Grey: For example, they are both passionate men, they love their wives, they are protective. Here we can see Jamie with his real wife, Amelia Warner:
Here, with his fictional wife:
Another thing Jamie and Christian have in common: they're both millionaires. It's said Jamie made approximately 5 million dollars for playing Christian Grey.
Despite these similarities, Jamie and Mr. Grey are extremely different. In an interview with the News.com, the actor talked about his own intimacy and how his alter ego had influenced: "I have nothing to do with my character, it is funny." He even said that he wouldn't be friends with Christian Grey! "He's not the sort of bloke I'd get along with, all my mates are easy going and quick to laugh; I wouldn't imagine myself sat in a pub with him. I don't think he would be my type, when it comes to choosing mates."

Another difference: I'm sorry if this ruin some of your fantasies, but Jamie is not into BDSM. About that, he stated: "It doesn't float my boat, but I've always been open-minded and liberal – I'd never judge anyone's sexual preference. Whatever gets people off is entirely up to them and there's a million different ways to please yourself, sexually. Some of the Red Room stuff (in the first film) was uncomfortable. There were times when Dakota was not wearing much, and I had to do stuff to her that I'd never choose to do to a woman."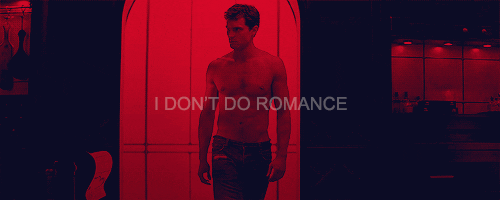 Jamie is not jealous. He and his wife are not possessive. Here we can see how Amelia is friends with Dakota Johnson:
Dornan is a funny guy. He's not as serious as Christian. Here we can see some of his funniest moments:
We have to face that Jamie Dornan and Christian Grey are completely different people. But that's not necessarily a bad thing. They're both wonderful men and we are in love with them! Which one would you prefer to have in your life?